The plan for June is to do the creative writing thing more actively. To travel around the world for a few weeks. To see new places, engulf myself in new experiences, views, sounds and smells.
Sketch of the month
For this month, I look playful! The credit goes to the lovely DragonFu.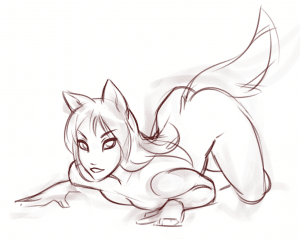 What I wrote so far
Two poems that I made as a part of a trial for the art gift program. I was given some details, and I let my imagination to roam free in the given boundaries.
I finally finished a story about my sister. It haunted me for months, and I feel great about finally finishing the text!
Writing on paper is fun! I got a paper planner and started developing my own handwriting style.
Scribbled another short poem that I wrote while being deadlocked with my writing.
Authored a short about my mornings:
And to finish up the work for this month,