A sunny month of writing! Expect some drawings in the bikini, happy poems and some nice erotic stories.
Sketch of the month
DragonFu sketched me in a cute dress.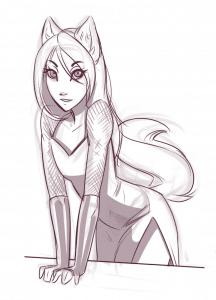 Recap of June
Wrote four poems, random and fun: an old friend, crazy world, hunting high and low, wolf songs. Finally got to writing about the story of my family and finished an explanatory post about tulpae. A quick writeup on how I plan things now. And a very short story about my mornings.
Read the summary post for June →
What I wrote so far
A few thoughts on the importance of forms. I got a new drawing of myself (it's awesome!), and it made me think a bit about why having some distinct looks is important.
Finishing up on my short story, the critique I got was inspiring. And overwhelming.
It took me two long weeks, but I'm finally done with another story! Erotic, thrilling, seducing.
The Feral Lust — He met her in a bar; she had strange amber eyes of a hunter. Who will be the prey this night? Follow the story of Michael, a battle-hardened marine, as he walks out of the bar with a petite girl.