The novel is progressing! And I'm not too active with the blog.
Sketch of the month
Credit goes to DragonFu again. Asked her to work a bit on the teeth.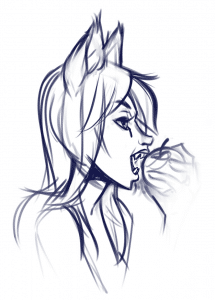 Recap of July
The month passed quick. A new art of me and a story—Summer Time. A little poem about proofreading. And the first chapter of my… novel? novelette? short story? Either way, it's a start. It's going to be an erotic thriller. Not too much sex, but when it's there—it will be good: The Feral Lust — He met her in a bar; she had strange amber eyes of a hunter. Who will be the prey this night? Follow the story of Michael, a battle-hardened marine, as he walks out of the bar with a petite girl.
Read the summary post for July →
What I did so far
Tons of editing. The second chapter of the Feral Lust gets into shape. Meanwhile though,
The plan for August
Finishing the second and third chapters of the Feral Lust. Got a new drawing—need to write a story about it. A blog redesign is coming too. Coursera classes, erotic art classes, so many stuffs coming up!