I've got a lovely new art, that finishes my 'four seasons' cycle – one artwork of me in Spring, Fall, Winter, and now, Spring. Let me share some insider details with you!
Picking on one specific sketch was hard. Initially, this slot with Fu was dedicated to working on my book cover, but as you all know by now, the book is still in the works with no definite due date. Didn't want to cancel the art altogether, though, so we thought of a few ideas.

A few of those ideas were erotic. Very contextual, but with that, very common folk themes. I wanted something special. A few months ago I was discussing how red looks nice on me, and if I were to try a scarf, that should be a red one – and the only piece of clothing I'd wear.
The idea was born. A red scarf, Spring, it all brought me to the theme of sakura blossom period.
The initial sketch looked fine, but Fu wanted something special. People don't commonly like my face – it's narrow, stretched out, with distinct canine marks. I have a crooked smile. Well, huh, Fu decided to prettify my face in a way that would be not much noticeable for me, and get something that would satisfy her strive for perfection.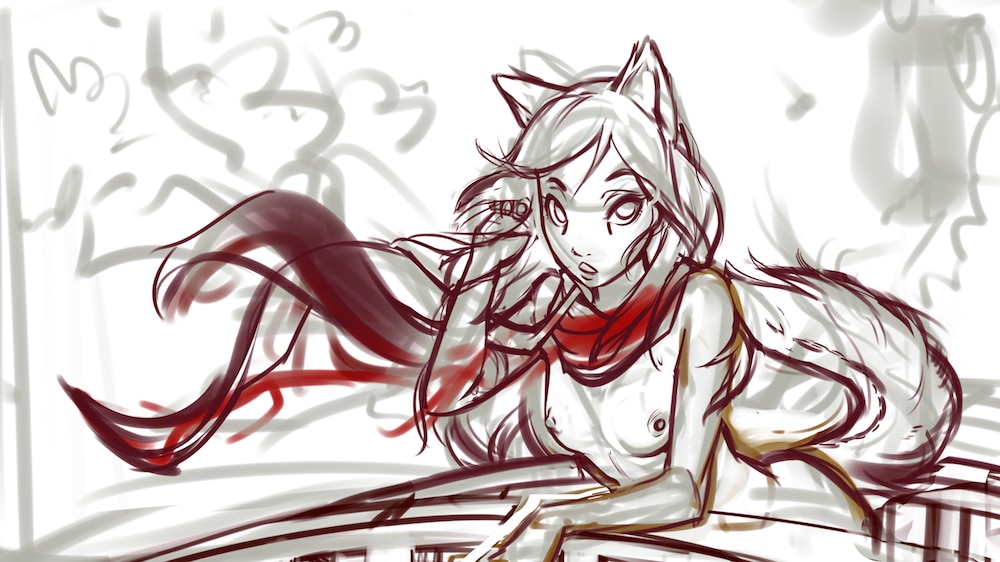 Another sketch version was born. Bigger ears. Bigger eyes. Smaller smile. Unbelievably classy. And still recognisable me.
I loved every moment of watching this drawing come to life. We couldn't go to Japan this year, so cherry blossoms only happened in my imagination – and this picture. For a short moment, I could imagine myself on the bridge, listening to the sound of water, rushing over pebbles, breathing in deep, with the scent of Spring wrapping around me.